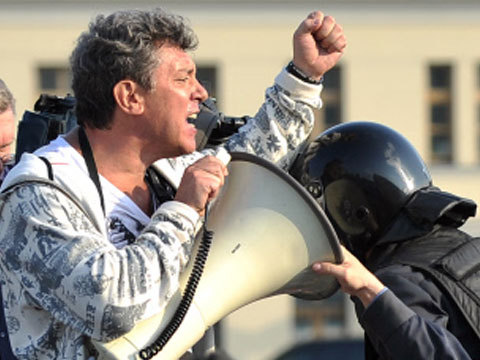 As if to highlight the worsening of Russia's already-disastrous political situation, last Friday night opposition leader Boris Nemtsov was found dead, after four shots in the back as he walked on a bridge in Moscow. Nemtsov was a decent man and, as a former deputy prime minister, one of Putin's most high-profile remaining critics.
Hilariously, the administration's investigating committee has attempted to blame it on (a) people wanting to destabilise Russia (no, because then they would hit someone in the administration, not the opposition) or (b) - wait for it - Islamist terrorists! Because they're really known for shooting people in the back, right? (You may remember that individual jihadist murders generally do not involve firearms at all.)
Despite the near-impossibility of proving it, a much more credible explanation has been offered by Ukrainian president Petro Poroshenko: that he was about to reveal evidence of Russia's direct involvement in Ukraine.
There is also the small matter of an anti-Putin rally to be held today, to which Alexei Navalny, another opposition politician, will not be able to attend either, because he has been jailed for 15 days.
Despite clear evidence obtained by Western journalists, i
t has to be said that evidence regarding Russia's Ukraine invasion from a high-profile figure inside Russia, with access to Russian media, has thus far been noticeable by its absence.
Following Nemtsov's murder, I suspect it is likely to continue to be.
Once, Nemtsov was a member of the political elite. Two years ago, he was writing about the death in custody of whistleblower Sergei Magnitsky and how his death should not be in vain, how it could be used to create a law to stop the gangsters. Now he, too, is dead.
It is clear that it is becoming increasingly unsafe for any Russian to criticise the Putin administration.
UPDATE: today's above-mentioned opposition demo - a fairly rare event nowadays - has now, as might be expected, turned into a funeral march for Nemtsov. Moscow's streets, where I spent so much time walking around this time last year, are filled with angry people.
Perhaps, just perhaps, some good might come of this.
There are also reports that the Ukrainian woman who was walking with Nemtsov has been detained and that the Ukrainian consul is not being allowed to speak to her. Ukrainian, note.
Vladimir Putin has, according that same BBC report, condemned the murder as "vile and cynical". Irony's not one of his strong points, as you may have observed.
UPDATE II: the young woman's lawyer reports she is staying at the house of a Nemtsov supporter. Which is good news.